Story: 1980 Mount Tamalpias Hill Climb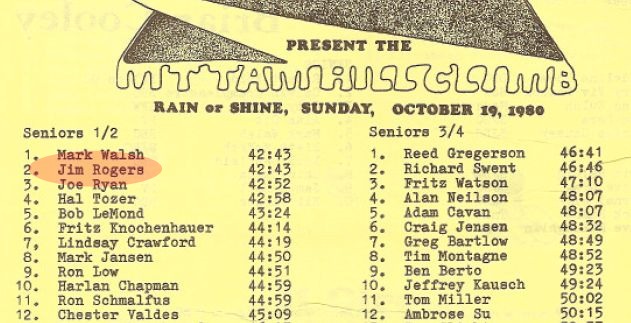 The very last race of the year has usually been the Mount Tamalpias Hill Climb. While I do not know how many years this race has been running, I do know that it has seen many an epic battle over the years. It was promoted by Velo Club Tamalpias, a club that produced many star riders during the 1970s, and has been maintained during difficult times by selfless volunteers such as Harry Rethers and Marcia Unkeles. This is a nearly zero money event in terms of sponsorship and prizes, but not at all a zero on the part of its participants. The race is simple: it starts at Stinson Beach in Marin County, goes north on Highway One for five miles, turns right on Bolinas Ridge Road, and goes nine miles up the mountain, finishing near Pan Toll Station Road at an elevation of 2000 feet.
The 1980 edition of the race saw very overcast skies at the start as my teammate (Olympic team alternate) Hal Tozer rode away after only one mile. This surprised me as Hal was recovering from a recent knee operation, but he was a both a talented and a smart athlete, and I knew that he wouldn't be going hard if it was bad for his knee. The pack was in a chatty and social mood, so I had no difficulty keeping the pace of the pack really low. When Hal got to the turn, he had acquired a significant lead. We later learned that Hal's lead grew right after the turn when he fearlessly and expertly threaded his way through a group of cattle standing on the road. Our pack nearly stopped at this obstacle until one rider saying "Let me through, I know how to deal with this..." got to the front, and then sprinted directly at the cattle while letting out a blood-curdling scream, causing the cattle to scatter every which way. I witnessed a fence post being knocked down by one of the desperate animals, but our path was now clear.
Almost immediately after getting onto the climb, Joe Ryan (who soon became the National Cyclocross Champion) set what seemed like an unrealistically high pace, with several of us electing to stick with him while wondering how long we could last. Joe was built like a gazelle and was a natural-born hill climber as well as one of the true masters of the sport of cyclocross. He was also a consistent and dedicated athlete, despite having a full-time law practice. It has been said that Joe knows of more abandoned but bikable roads than anybody else in the state of California.
I somehow managed to find my rythm while being subjected to Joe's tortuous pace. Others were not so lucky (or stubborn), and by the time we caught up to Hal, only (Olympic team alternate) Jim Rogers (who at the time was the district time trial champion), Bob Lemond (Greg Lemond's father), and I were still hanging on to Joe. As things sorted themselves out, Bob was dropped about halfway up the climb, saying something about his years (he was 45 years old at the time), and Hal slipped off later during a difficult section of the climb, feeling the time off the bike associated with his knee surgery, but soldiered on, staying not far behind us.
As we broke through the clouds and saw a beautiful view, Joe made a silly comment about how we should stick together because of news reports that an infamous serial killer (the Trailside Strangler) was hiding out on the mountain. Neither Jim nor I were in any condition to reply as we were crosseyed from matching Joe's efforts. We also knew nothing of the course, but Joe had ridden it hundreds of times. My only clues about our progress were from my having memorized the winning times of previous editions of the race, and our elapsed time gained from my wristwatch.
When my mental calculations showed that we should be getting close to the finish, the road inexplicably flattened out. Joe was as bad on the flats as he was good on the hills, and Jim and I easily dropped him like a hot potato. After a minute, I looked back to see Joe struggling quite some distance away. Jim took advantage of my lack of attention by launching an attack. I quickly countered, staying right on him, and then noticed a few people standing on top of a little hill next to a rise in the road. Amongst them, I recognized the dress and posture of promoter Harry Rethers standing on a little knoll, and knew that we were looking at the finish (which was obscured from view).
Jim and I probably realized simultaneously that his attack had actually been to my advantage, and he put up no fight as I came around him. He had bested me fair and square earlier in the season (see 1980 Davis Criterium Story and 1980 Santa Ynez Road Race Story), and now it was my turn. Resigned to his fate, I had ample time to sit up and do a nice victory salute. What a cap on the racing season!
Hal almost caught Joe by the finish and Bob Lemond eventually appeared, but it seemed like an eternity before the others finished. While no records were broken, I was happy that our elasped time was only a minute slower than that of the younger Lemond from the previous year despite our slow speed during the beginning of the race. Jim gave me a very heartfelt congratulations, and Joe disappeared, saying something about wanting to go on a long ride. Joe went on to win the national cyclocross championship, and in our next meeting (see 1981 Mount San Bruno Hill Climb Story) demonstrated beyond any reasonable doubt that he was still California's true King Of the Mountains.
2010 Update: It is with sorrow that I report that Jim is no longer with us. While out on a bike ride, he was killed by a 'distracted driver.' Here is a nice tribute containing clips from the 1980 Davis Criterium and the 1980 Sacramento Cyclocross, thanks to Robbie Franklin and Steve Uhler.